DOMINICA: Then and now
The 21st century contemporary, Dominica is perhaps not unlike any other Caribbean island today. The hustle and bustle of everyday; public servants delivering on the agenda of elected parliamentarians, a private sector providing goods and services for a diverse population pursuing their hope and dreams. Conversely, 400 years ago, the Caribbean, was not known as the tourist destination of choice as we know it today, but a theatre of war between European powers jostling for newly-discovered ' islands. The islands of the West Indies, were coveted not for the picturesque beauty, but for the purpose of colonisation and planting grounds on which to establish their sugar and tobacco plantations from which, as time would tell was a source of enormous wealth which transformed Europe into the behemoth commercial hubs they have become today.
© IWM TR 6964 Marie David inspecting tobacco plants at the Hillsborough Tobacco Estate in Dominica in the Windward Islands, March 1955.
If you could toggle back and forth from the 15th to the 21st century, your jaw would drop to your feet in horror to witness the sheer scale of the effects that the Atlantic Slave Trade, on these picturesque islands like jewels in a crown surrounded by a blue sea of velvet. You would see the terrific wars of conquest between the English and the French. Their galleons being bombarded with canons, and maybe even hand to hand sword fights. Later you would see the slave ships with lumber into crude harbours with their human cargo. You would witness the auctions, forced labour on the massive plantations, and instead of lush forests, miles and miles of sugar cane, and gangs and gangs of slaves,: men, women and children, right at the bottom of this ungodly social order.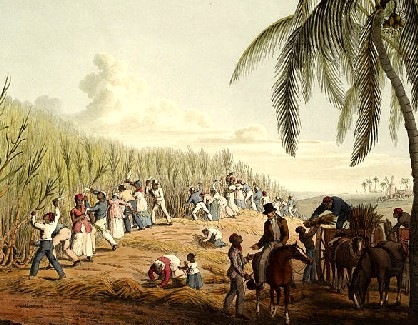 From Hispaniola, Cuba, Puerto Rico and Jamaica in the Greater Antilles in the North, to Carriacou, one of the smallest of islets in the Grenadines. If the particular island was too mountainous to immediately transplant their Eurocentric quests and notions of genteel European society, or less ideal suited for sprawling sugar plantations, the islands would be used for other essential crops that could fetch a good price such as Cotton and tobacco. As we will see in a future post, islands such as Dominica, specialised in a diverse range of crops, including coffee and cocoa and citrus. From the 1600s right up to the middle of the 19th Century, the West Indies, whether the islands were possessed by the Dutch, Spanish, French, Danish or English, regarded as part of the 'New world' An exotic land of milk and honey where personal fortunes were to be made, and sovereign powers to be enriched. Indeed for the British, its possessions in the New World were at the very centre of its source of wealth and power, as it extended the reaches of its empire well beyond its boundaries and surrounding seas.
96 DEGREES IN THE SHADE, DREAD AUTHOR AND POET
When emancipation came 400 years later, 186 years ago, the slaves had nowhere to go. They had no possessions, they had nothing. Many perhaps had not eaten in days. The only education they had was obedience to 'massa' and whatever tasks they learned on the plantation. Similarly, 350 years later, those same former colonies, one by one were granted Independence. Again, nowhere to go. All massa left was ruins. The streets of Glasgow for instance are paved with the wealth made from crops grown by enslaved people in Dominica, for instance. After 400 years of colonialism, very few Dominicans were heirs to generational wealth. When I arrived in Dominica in 1972, Dominica was the laughing stock of the Caribbean. When cricketers would come to play matches in the Botanic Gardens they would shake their heads, at the condition of Roseau with houses and shops looking as if it was a movie set in the 16th Century. The Imperial road from the airport, and along the coast riddled with craters. Large swathes of the country was without electricity, and only the fortunate few had a formal education. What is there to be happy about.
Have we developed so much that we still have streets in Dominica named after British kings 252 later?
Instead of Rastafarians being revered, we are still persecuted for planting marijuana, and our children are forced to cut their
locks
to go to school in Jamaica.
How many Caribbean islands have a street named after Bob Marley or a statue?
As long as we continue to pay lip service to the Black Liberation struggle, the Caribbeans will never be free. As happy as we are with our fancy beads, textiles, and glass we will never be truly free. Because we were taught to be subserviently gathered around the massa's commonwealth table waiting for the crumbs that fall to the ground hoping to snatch it before other scavengers.
As long as we continue to be colonial puppets dancing to the fife of the oppressor, we will be talking, dancin, singing and writing about reparations for another 400 years.
Is this what makes Emancipation Day a happy occasion? Then beat your drums, drink rum, smoke cigarettes. Enjoy your happy days before the hurricanes come. Those same monster cyclones that are steered by the same westerly winds that blew the slave ships from the west coast of Africa laden with human cargo destined for a life of misery, neglect, and abuse that still continues today.
Surely, you mean UNhappy Emancipation day. The only slaves that are happy are those that have departed this sorry place we call earth. At least they do not have to endure that shame and disgrace that is the lot of indigenous people. At least they don't have to face the indignity of a public servant kneeling on their necks.
The only reason I am alive today, is because my ancestor survived the middle passage. Because my descendent survived plantation Dominica BWI. Because, despite coming into this world to inherit nothing, I am alive because I survived the Dread Act, I survive the Racism, and I will continue to survive to tell my version of this sad story of colonialism which the descendants of slave-owners delight in telling.
If reading about the brutalization of your ancestors makes you happy, then all I can say is once a slave always a slave.
Further reading
Mountains of Dominica | a virtual Dominica (2020). Available at: https://www.avirtualdominica.com/project/mountains-of-dominica/ (Accessed: 31 July 2020).
Kehoe, Mark C. (2020) Pirate Surgeon's Journal: Golden Age of Piracy: Booze, Sailors, Pirates and Health, Page 10, Available at: https://www.piratesurgeon.com/pages/surgeon_pages/booze10.html (Accessed: 31 July 2020).
'I won't cut her hair!' – Parents of dreadlocked girl incensed at 'systemic racism' after court ruling (2020). Available at: http://jamaica-gleaner.com/article/lead-stories/20200801/i-wont-cut-her-hair-parents-dreadlocked-girl-incensed-systemic-racism?fbclid=IwAR1kFHf2955xtSS8vepHFRXk_5xq9UOmBWIKLhy02ztUrJ7NIegVXiCWyUY (Accessed: 3 August 2020).