A magnitude 4.0 earthquake event was recorded at Latitude: 12.78 North and Longitude: 60.39 West. (Facebook.com. 2018)
Magnitude 4.0 earthquake
Here is the latest information from the Trinidad-based, Seismic Research Centre (SRC) of the St Augustine campus of the University of the West Indies regarding the succession of minor earthquakes affecting the Caribbean region.
According to the SRC, at 03:05 am (Local Time) 07:05 (UTC) 2018-12-12, a magnitude 4.0 earthquake event was recorded, at a depth of 10 km, at Latitude: 12.78 North and Longitude: 60.39 West or 94 km (58.4 miles) Southwest of Bridgetown, Barbados or 102 km (63.4 miles ) Southeast of Kingstown, Saint Vincent and the Grenadines or 153 km (95 miles) Southeast of Castries, Saint Lucia (Facebook.com. 2018).
This follows an announcement that at 9:17 pm (Local Time) or 01:17 (UTC) a magnitude 3.7 earthquake had occurred at a depth of 5 km 11 km (6. 8 miles) Northeast of Roseau, Dominica, 89 km (55.3 miles) North-northwest of Fort-de-France, Martinique and 100 km (62.1 miles) South-Southeast of Pointe-à-Pitre, Guadeloupe.
The government of Dominica will today debate legislation to formalize the establishment of its Climate Resilience Execution Agency of Dominica (CREAD). The agency's aim is to address the recovery of the island from severe climatic events. However, these latest occurences of minor earthquakes is a cause for alarm, and a sober reminder that the disaster-prone region is also prone to geologic, hydrologic hazards. As well as possible marine and man-made disasters.
Social media accounts from Dominica confirmed that shakings were felt in the capital and elsewhere.
Incidentally, last week, CEDEMA and the ITU held an Emergency ICT forum where multi-stakeholders representing top level telecommunications providers, regulators, Information technology companies, metrological bodies and government officials from around the region including Guyana were present to discuss the state of preparedness of each other's' territories and learn of the work of the ITU. One of the objectives of the 3-day event was to produce the 'Parish Hall declaration.'

54 earthquakes in 21 hours


"a big one is coming and it is better to be prepared,"

– Dr. Joan Lutchman
Meanwhile, " a burst of 54 earthquakes" occurred north of St. Kitts during a 21-hour period last weekend. The quakes ranged from magnitude 1.2 to 4.1, and occured between 4:28 p.m. (local time) on Friday to 9:50 a.m. (local time) on Saturday, according to (SRC) (Barbados Today 2018). Reports of the earthquakes according to SRC came from several Caribbean islands including Dominica, Guadeloupe, Antigua and Barbuda, Anguilla, Saint Barthélemy, Saint Martin, Sint Maarten, US Virgin Islands, British Virgin Islands, Montserrat and Puerto Rico.
The head seismologist of the SRC, Dr. Joan Lutchman has since issued a warning to Caribbean governments, "a big one is coming and it is better to be prepared," she said.(Caribbeannewsservice.com. 2018).
caribbean plates
The seismology website, Caribbean Tectonics, says that "due to the Caribbean's
extensive and interesting tectonic environment, the Caribbean region is rife with natural hazards. From earthquakes and tsunamis to volcanoes and landslides, the potential for disaster in this region is remarkable," adding, " Seismicity in the Caribbean region is focused along the Antilles Arc, where the Caribbean plate overrides the North American plate (Shedlocke, 1999). In this region, shallow intraplate earthquakes dominate at plate boundaries (Shedlocke, 1999). (Caribbean Tectonics 2018).
Richter Scale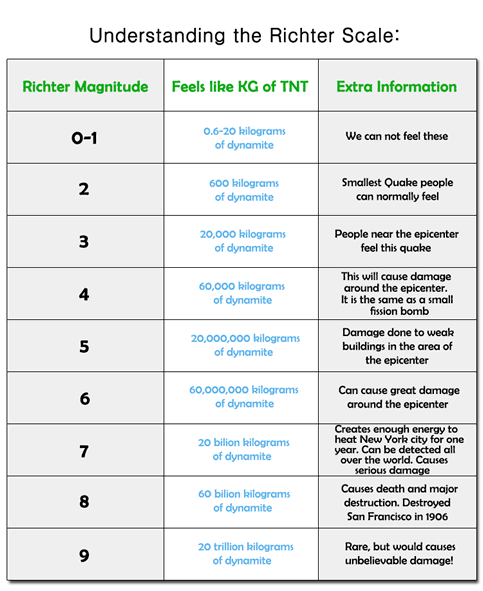 references
Facebook.com. (2018). Redirecting…. [online] Available at: https://www.facebook.com/uwiseismic/ [Accessed 12 Dec. 2018].

Shedlocke, K. M. (1999). Seismic hazard map of North and Central America and the Caribbean. Annali di Geofisica, 42(6), 977-997